I never really liked the sound of the word BLOG…it sounds kind of like slime, or phlegm, or something you scrape off the bottom of a boat….
How about the word BLOG mixed with flying…FLOG…now that sounds kind of interesting… How about I just call it FLIGHT LOG? Now that tells a story, records the facts, and gives me a place to write about current projects, flying adventures, and respond to FAQ's.
The American Angel Takes Flight!
Sun Jul 08 17:41:27 -0400 2012
Yikes - it's been 4 years since we've added to this Flight Log! Any 'spare time' (is there really such a thing?) in the last 4 years has been spent getting that Vans RV-8 in the air that we acquired in '07. He flew it for the first time in March of this year, and what a beautiful first flight it was!

A year ago he entered it in both the Portland and Eugene hot rod shows, where it was very well received as a flyin' hot rod; he was recognized for both outstanding paint and outstanding display.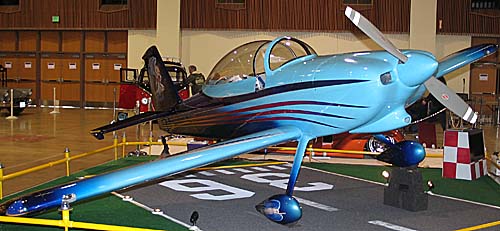 Since that first flight, any spare time we have has been spent flying and making plans for longer and longer flights, getting ready to make that cross country trip to Oshkosh one summer. Thanks for stopping by!

Road Warrior - Summer '08
Sat Aug 02 09:36:52 -0400 2008
I have settled the whirlwind for a couple of days to get set here in Lincoln, Nebraska for a really big art job on a jet. I'm at the home of the famous Duncan Aviation, an aircraft facility that has a long history of top shelf work on aircraft of many types, but specializes in business aviation. The walls here are lined with pictures of the PEOPLE that make a place like this what it is from the inside out - a lot of people who care about customers and their aircraft. I have encountered one great person after the next, and even though my services were called in at the last minute to create a dream-like
theme, there is no angst or panic among the professionals who keep this place running like a well oiled machine....some great shots of a beautiful jet should be along here as soon as we can get the paper off, and the jet is sitting still long enough for some photos!
Oshkosh 2008
Sun Jul 27 10:41:07 -0400 2008
John left yesterday for Atlanta. Today he'll fly in this RV-7 on its first flight to Oshkosh – a dream come true for John as well as for the owner of this tribute to a friends' military past. The paint was completed this spring, and features lots of special details and fool-the-eye graphics, such as the 'guns' on the wings.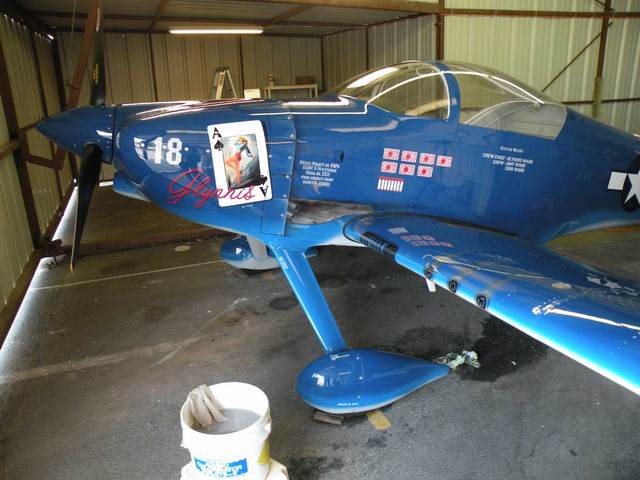 They promise to send an in-flight shot to replace the one above, which is really just a teaser. I'll place those pics in the Portfolio as soon as I get them. The final touches were completed last week – make sure to check this plane out if you are at Oshkosh '08!
Another plane you'll want to see at Oshkosh this year is this outstanding Chinese themed war bird, adorned with gold-leaf accented dragons down each side, rendered this summer by John. The owners are thrilled with the results! It was probably the most photographed plane at this summer's Arlington, WA fly-in, so you won't want to miss it! They plan on taking some better in-flight shots while in Oshkosh, so check back for updates in the Aircraft section of this site's Portfolio.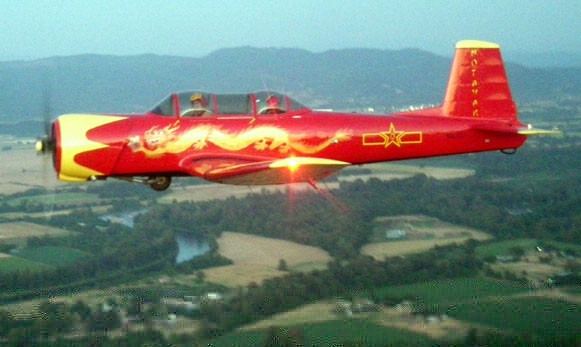 It seems that it is every pilot's dream to make it to Oshkosh at least once. Actually, you don't have to be a pilot…just a lover of anything aviation related. I've been once, back in the summer of 1974, with my dad. He was a P-38 pilot, and longed to start flying again. He had the plans, some of the tools, and a dream to build his own plane. However, circumstances were not in his favor, and he never did complete that project. John and I recently acquired a partially completed RV-8. We hope to finish it in time to fly it to Oshkosh next year, for many reasons. High on that list - to honor my dad and his dream.
Patti Stahr
Summer Tour 2007
Sun Jan 20 16:22:28 -0500 2008
The flight log has fallen behind, due to a busy summer tour... jets, Turbo Props, and sport planes from six states and the UK!
I have had some excellent help in every location from fellow painters, a creative brother, and owners of the various aircraft. I could have never pulled all these projects off without teamwork and assistance from paint shops in several new painting venues.
This super busy time concludes with the long awaited Humu Humu job, a colorful tropical fish inspired WOW paint job on an RV-7....this is a Kodak moment paint job just waiting to be clear coated!...all I need to do is get it all done before the winter overcast so we can get some nice pictures.
Painting in England on some terrific airplanes was particularly exciting. Lots of love has been built into those airplanes, and working side by side with some airplane craftsmen from across "the Pond" was a lot of fun. One painting venue was just beneath the landing pattern of a local RAF air base. A constant parade of Tornados and Hawks kept the airplane noise echoing in the shop. If there was any drawback, it was the toll on my energy with the long travel hours, and the deadlines I set upon myself to be wherever I needed to be next. Next time, Patti hopes to join me for some sight exploring and meeting fellow aviators from the British Isles.
Flying With the Man
Wed May 09 23:36:01 -0400 2007
One of those great flying days happened Tuesday...I was lucky to have terrific VFR flight conditions...that means wonderful weather to see the mountains, lakes and rivers of the Pacific Northwest. The bonus was having a mission to make it even more worthwhile! I was delivering my regular co-pilot, my shop dog Calvin, to my folks in the Seattle area. Calvin was just chillin' in the back seat...both fresh air vents pouring cool dry air into his face, blowing his hair around...he was in heaven!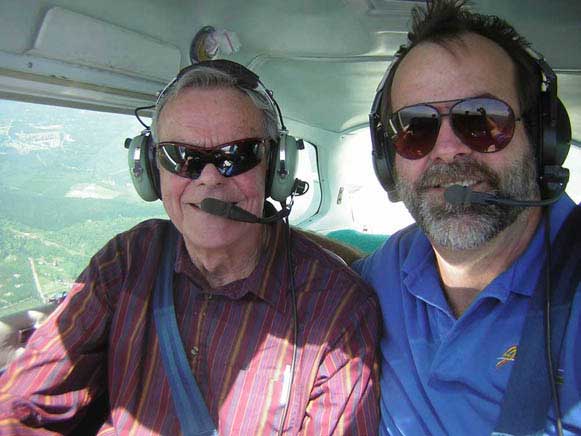 Dad met me at the base of the control tower to come flying. He took the other front seat and we blasted off into the bumpy air to give my first flying mentor some time at the controls again...it was great to have the student take up the master for some fun. The winds at Auburn and later, Boeing field, were just as annoying...blast fan on , blast fan off, blast fan change direction.....then back off again. We managed to walk away from every landing. I even had a great flight home to Oregon....back just in time to pick up my son at school.....what a great day!
Signed by the artist...
Wed Apr 18 23:15:48 -0400 2007
I am an artist.
I sign my artwork for many reasons. People expect an artist to sign a painting, sometimes even simple sketches or drawings. It is the last thing I do. It is my sign of completion and final approval. It proves I did it, and gives me the copyright protection for my creation. The client has paid for an original, and now they have one.
My signature on custom paint jobs is also a trademark that shows I stand behind my work, and I want the customer to know that they can count on me for as long as they own it. I never sign a job in a place where it does not look like it belongs there, and my signature will never have phone numbers or other advertising copy that looks tacky. It is like the Ralph Lauren polo pony or the Mercedes circle with a three pointed star...you know when you've found the best of the best.
How much does it cost?
Wed Apr 18 15:32:09 -0400 2007
Just about the first question asked is...."How much will it cost?" Now that is a loaded question! I often answer back with... "Well, how much does it cost to build a house? You could spend 50K for a fixer upper, or 50M for the estate on the beach in Malibu...it all depends on your budget, and what you want to have done, right? " It usually takes about 20 questions that I need answers to before I can start to estimate....
The simplest answer is, "Let's talk about what you have been dreaming about, what you want to have designed and painted, then we'll ask the other questions about time, budget, and your expectations.
Fine art projects...
Any art project will take some creative thinking time that leads the way to the actual creation. Original paintings can start at $300, and go to the limit of your budget. Getting great value for your project is always a bonus. My goals are to be the best I can be, remaining fair, and establishing a great customer interaction that pleases everyone involved.
Custom painting projects...
When every project is an original, a one of a kind, there are many variables. In a nutshell, the total cost is a function of the time it takes, plus the cost of top quality materials and the overhead it takes to provide a place to produce a great job.
It seems that in most cases, if a product or service is for an airplane, it costs about twice what anyone would estimate...not because it actually needs to, but because of the cost of insurance to protect us all from the high cost of litigation when somebody has a bad day flying.
Anything done for certified airplanes has to jump through a lot of hoops, inspections, approvals, and FAA scrutiny...it is honestly done in the spirit of safety, but man, it can get expensive. I try to offer several solutions for a project that give some flexibility for budget and time. The bottom line is that you get what you pay for, and I will be seeking to exceed your expectations.